IT
·
Norway, Denmark, Finland or Sweden
Nordic Solution Specialist
Selecta is Europe's leading unattended self-service provider, offering coffee and convenience food solutions in work- and public spaces. Every day, Selecta serves more than 10 million people at their 475,000 points of sale across 14 countries in the EU. Selecta provides vending services and solutions for all types of companies in all business segments. Keeping pace with the ever-evolving market, recent innovation are e.g. on-the-go mini-markets, smart fridge workplace solutions or barista trainings. Selecta has approximately €1.6 BN in revenues and employs circa 7500 employees. The business itself is organised around the two main categories, coffee & hot drinks (which includes partnerships with Starbucks and Lavazza e.g.), Impulse (snacks, foods, cold drinks) – furthermore Selecta provides ingredients, equipment and technical services and support. Selecta has a scale driven business model, powered by real-time data and a unique route-based model which provides distinct competitive advantages by high-density on the last mile.
In the Nordic countries we are present in Sweden, Norway, Denmark and Finland. We are now looking for a Nordic Solution Specialist who will  join our IT team and be located in either Sweden, Norway, Denmark or Finland. You will cooperate with all Nordic countries and report to our IT Director Nordic.
Your area of responsibility:
The role as a Nordic Solution Specialist means being a part of providing modern IT solutions. You identify, drive and implement business development that contributes to attractive concepts, solutions and functions for Selecta's customers and consumers. In this role, you have a great impact to influence, improve and proactively produce proposals that will increase business opportunities. The focus is on integration between the different parts of the IT systems. Your role has an important part in developing solutions, service, products, communication, new technology, etc. This is a business-oriented role from design to execution, which suits you who both want to come up with solutions and implement these. You take IT's role in projects and investigations and contribute with your technical expertise to drive our digital transformation journey forward. You understand current and future challenges and design, develop and maintain solutions according to the company's requirements. As a Nordic Solution Specialist you both manage and improve existing and new solutions. The Nordic region is your area and you also have close cooperation with Selecta Group based in Switzerland.
Who are you?
We are looking for a candidate with relevant university or college education and a few years' experience of a similar role. You are used to working in the borderland between business and IT and you have the ability to understand and translate business needs into technical solutions. We are looking for you with B2B and CPQ skills. You have good insight into processes and value chains, knowledge of modern business processes and you are updated and know the effects of being at the forefront of IT integration. You like to digitize manual processes. To be successful in the role, we believe that you as a person are energetic, business-oriented and prone to change. You are also good at communicating and a team player who enjoys networking.
Selecta offers:
An exciting challenge in an international company where we believe that high job satisfaction for our staff is the basis for personal achievement. With us, you get to work in a value-driven company that is the market leader. At Selecta, you are measured on both what you do and how you do it, and it is therefore important that your personal values are in line with Selectas; Customer focus, A winning attitude, Cooperation, A professionally performed work and Integrity. We have a strong brand and exciting customers who will challenge you and them. We are the company for you who put service and taste first and of course you love, just like us a good coffee.
Interested?
If you want to know more about the position, you are more than welcome to contact Nordic IT Director Peter Stolina: peter.stolina@selecta.com. In this recruitment, selection will take place on an ongoing basis, so we look forward to receiving your application as soon as possible, but no later than 31th of October.
Avdelning

Platser

Norway, Denmark, Finland or Sweden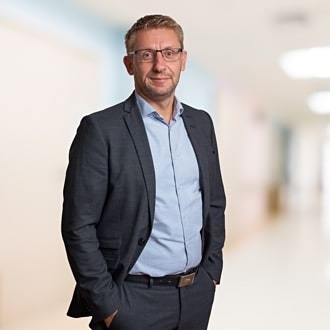 Våra värderingar!
Intresse och passion för kaffe och smak är det som förenar oss medarbetare på Selecta. Vi vill ge bästa smaken till våra konsumenter, skapa tillväxt genom att vara lyhörd inför kunden och hela tiden finna kloka, nya vägar för förbättringar i vardagen.
Oavsett om du arbetar med våra maskiner, möter kund eller arbetar på kontoret så går alla nya medarbetare en kaffe- och teutbildning.
Våra värderingar är en del av vår vardag och är grunden för hur vi bemöter både våra kunder och varandra.
Vinnande attityd - Vi är mycket ambitiösa och strävar ständigt efter att överträffa våra mål – vi utmanar oss själva och våra resultat.
Integritet- Vi följer uppsatta etiska riktlinjer. Vi är ärliga och rättvisa och visar respekt. Vi värdesätter mångfald.
Samarbete- Vi bygger förtroende och tar ett gemensamt ansvar. Vi arbetar tillsammans för att skapa ett framgångsrikt team.
Kundfokus- Vi bryr oss om våra kunder; vi har lösningar i världsklass och våra innovativa koncept och breda kaffesortiment med välkända varumärken gör oss till en attraktiv leverantör.
Arbete som utförs professionellt- Vi levererar ständigt effektiva och mätbara resultat med kvalitet. Vi genomför vårt arbete enligt uppsatta mål.
VI SKA!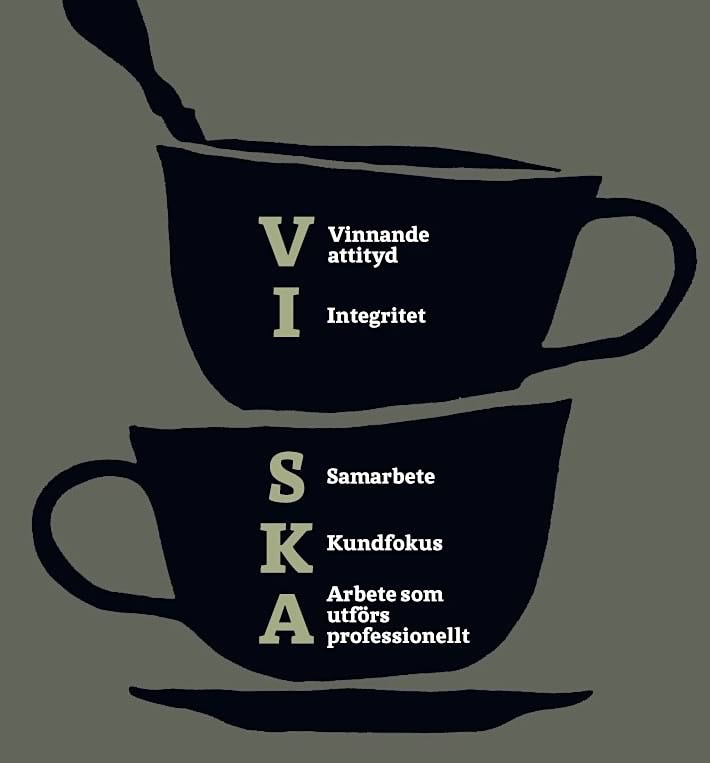 Om Selecta Sverige
Vi är Europas marknadsledande leverantör av smidiga lösningar för försäljning av mat och dryck via självservering. Varje dag förser vi fler än tio miljoner människor över hela Europa med goda drycker och snacks genom våra 425 000 försäljningsställen.

Vi tillhandahåller mat- och dryckeskoncept av högsta kvalitet för alla typer av platser – från arbetsplatser till skolor, universitet och sjukhus och andra publika miljöer. Genom att erbjuda en bra produktmix med även hälsosammare alternativ är vi en föregångare inom branschen och låter våra kunder njuta av kaffe, mat och dryck precis som de vill ha det!
Selecta har över 8 500 anställda i 16 länder och det är våra medarbetares fantastiska kompetens och engagemang vi har att tacka för en stor del av våra framgångar.